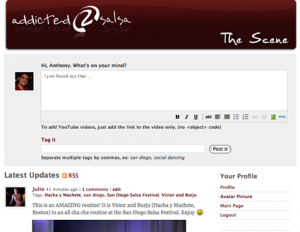 We have known that for some reason the forums have dwindled from their height in popularity in the summer of 2007. Could it be because of the
economic recession
? Probably not, but we know that the old addicted2salsa forums do need a bailout plan as well.
After much work, I have finally finished a draft of what I think will be a new format in salsa communities. This is a mixture of a 'facebook-feed' mixed in with
Twitter
. I hope this new micro-messaging style of website helps make it easier for salseros and salseras to share video clips, ask about specific song names, post thoughts about frilly dresses and skirts from Gone With the Wind controversial salsa dress codes and much more.
Let us know what you think, so that we may improve it for you.
Check out The Scene @
Discuss on our Fan Page
Note
: Your current Addicted2Salsa logins should work to login to this site.