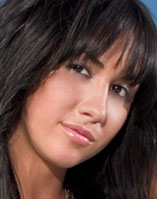 I just can't believe it! My two favorite dancers out of the bunch got voted off. I was thinking I would at least have one of my favorites in the finals (well, maybe Sabra) but man - Pasha and Lauren! Feels like a nightmare and a bad "Laguna Beach" episode. I'm assuming you've been keeping up with the show, otherwise this will be over your head.
Now, "So You Think You Can Dance" is not really about America's best dancer - its America's favorite dancer. While Lauren was amazing and beautiful, I'm assuming what happened was that technically she wasn't as masterful as Lacey or Sabra. Now Lacey is highly technically skilled, but come on! Her cousin Benji won last year's competition! Fine. Sabra.. she hasn't really connected with the audience yet. So Lauren had it tough - that' s understandable - however, I think she brought a mix of both technical and flavorful dancing - especially in her personality. Even on complicated turns and patterns during some performances - she always smiled as she was having fun. Man, I'm happy to have that picture on that blog - Lauren, if you're ever in San Diego...
(whisper) call me
! :-)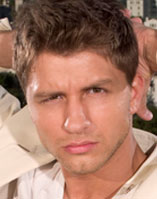 Now, for the biggest disappointment in my opinion. Pasha I thought was the BEST dancer hands down. I just kept yelling '
What? What!!? You have got to be kidding me!!!'
to my TV screen. It reminded of the time when the results came in on how President Bush got re-elected.
Now, to be truthful, Danny is technically more skilled and his jumps are amazing. However, he has no personality! He's too serious. Not fun to watch. Reminds me of reasons why I never joined ballroom clubs - people took themselves sometimes a little too seriously, to the point the fun part of dancing was removed. And Neil..... Neil, Neil, Neil - come on people! He does not come close - I think he just got lucky. I mean, he's great at flips and tricks, but personality. He only started shining at the very end. Pasha was on top of his game from the very first dance.
Pasha brought an excitement back to performances. He made every dance his own, always acting, making faces - amazingly entertaining to watch. Whether it was jazz, hip hop, Broadway, salsa, or that freakishly weird 80's routine... it was just so entertaining that made you want to dance. That type of effect is not found in many dancers. Sad to see him go, but I guess America has decided.
So, I guess my biggest bias is that I base dancers on how they make me feel. (Warm and fuzzy?). Personality. I think 50% of any performance is personality. Showing the audience how much more fun it is to dance it than watch it. So, I lost my bets this season (again).
But I wonder for those who do watch the show, who do you think should win this year?