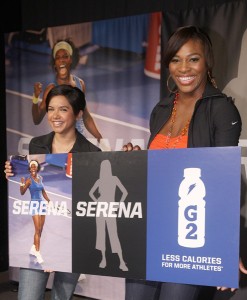 Our friends over at
RitmoBello
have posted a video of one of our favorite local San Diego salsa dancers and her commercial with Serena Williams for the "Everyday Athlete" campaign from Gatorade G2. Gatorade and Serena Williams were looking to find an athlete named 'Serena' (for 'Serena' Williams) for their new promotional ad. Serena Cuevas was chosen as the winner by a panel consisting of representatives from
Shape
magazine, Gatorade G2, and ReRe. Our salsera won the contest and is now on national TV spreading the message that
dance is a tough sport that also requires high levels of electrolytes - G2-baby!!!!
.
We are extremely excited for Serena Cuevas and thank her for the awareness that salsa dancing will get, due to her contribution. She is definitely one of the brightest rising stars in the San Diego salsa scene, and has come a long way to take dancing to a much larger stage. Serena grew up having the desire (
'deseo'
) to be a dancer, but was sidetracked by a horrific accident when she was 17-years old. According to her, doctors told her she would never dance again, but Serena fought through that obstacle and built her own highly acclaimed dance company,
Deseo Dance
, as well as rising to compete in national and international salsa dance competitions.
Addicted2Salsa
would like to congratulate Serena and her team for the contributions they bring to salsa and look forward to Serena's next set of surprises! :-) My hopes are to see her compete in "
So You Think You Can Dance
".
Here is the Gatorade G2 ad: (looks like an episode of the movie
Flashdance
)
https://www.youtube.com/watch?v=eNGpB8zxQlg
and here is the wonderful Serena dancing with Juan Two Three at a local event:
https://www.youtube.com/watch?v=tJgZw76y3HI
[More at
RitmoBello
]