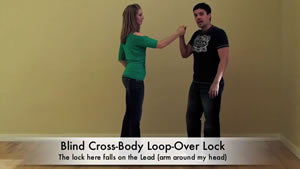 In this episode of Addicted2Salsa we show you how to perform a basic blind cross-body lead with a loop-over lock salsa move. While the move may look easy at first, it is the timing and the proper leading where some may have difficulties. Also, we will take it and chain it together, going from a cross-body hammer-lock to a reverse loop-over. I consider this a more intermediate dance pattern because you have to be very careful on how you lead this move. These moves done incorrectly can hurt the girl in VERY bad ways. At the very end of the episode, we decided to add one of our bloopers from filming. Enjoy!
Before we continue, over the years I had been receiving a lot of questions on the much nicer dance shoes that I wear during the
Addicted2Salsa dance video episodes (nice white shoes)
compared to the
original series (big black heavy shoes)
. I've worn A LOT of dance shoes since I started dancing salsa, from regular rubber dress shoes, to BLOCH sneakers, to jazz shoes and shoes with Latin heels. As a male dancer, there isn't much of a selection for a great dance shoes - until a few years ago when I met Giancarlo from
Gabellini Dance Shoes
.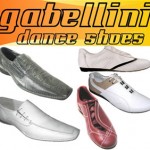 He has made some of the most fabulous dance shoes for men that combine a great sense of
style
and
utility
. I bought my first pair in November 2006 and have never bought any other brand since. Giancarlo has taken time to really focus on what makes a great dance shoe for men: a lightweight shoe that allows a better placement of your center of gravity with enough support to provide you with better control on spinning and footwork. We all appreciate anyone who that takes time in designing things very carefully and well, and Gabellini has done this for mens' salsa dance shoes. I'd like to thank him for being the first sponsor for the
Addicted2Salsa show
.
[
Updated
] The song name is
Lunes Locos (Crazy Mondays) by Los Gatos
. Also, for those who were asking, my favorite shoes are the 'White Leather' (with a black stripe).