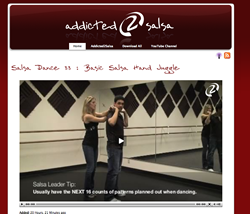 We have just finished relaunching the
Salsa Dance Lessons
website to make it easier for everyone to view and download all the current and future episodes of the
#1 Free Salsa Video Lesson podcast
. With this new website, you should be able to view the videos in higher quality (even the old ones), in fullscreen and you should be able to directly download all the videos to your desktop. This should help make salsa dancing more accessible to everyone around the world.
I will be adding features for people to leave comments on any video and to ask questions about any specific moves. If you see some other feature that would make the website even better or easier to use - please don't hesitate to send your
feedback
.
I'm sure you have now figured out why I have been 'quiet' for the past few months. I'd like to thank Julie for running
addicted2salsa
and answering emails while I was locked in the "dungeon" working. We will start working on new episodes for the fall soon.