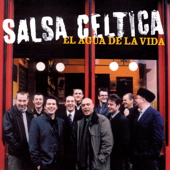 So, its been a while, but since I now have finally (some) money and time - I wanted to start my favorite section: The Music Review. So, it used to be that every month I would showcase my favorite band of the month - but due to me writing my thesis, moving to San Diego and lots of other stuff - I had slipped. But nevertheless, its back with my first review of one of my new favorite bands:
Salsa Celtica. Now this is some 'FRESH' salsa. (It was a joke good setup, so I had to try).
Now, I tell you, I first thought this was going to be weird. Celtic music with salsa? But, man - I was COMPLETELY wrong. I learned of this band at the Palm Springs Salsa congress. This has become one of my favorite styles of salsa, and they may become a favorite band. I don't know if its salsa, but they mixed the bag pipes with salsa very well.
I was very impressed on how they made a not-so-cool instrument (BAG PIPES!) seem like you want to learn how to play it.
My Favorite Songs are
"Sol De La Noche" (top pick - cha cha, this song is just great!), "Luna Celosa", "Maestro" , "Pa'l Rumberos" , and "Ya Llego" (this is the song that I heard at Palm Springs)
. (Note: I like a lot of other songs too.. but there are too many). These songs are spread between the two albums they have, so that is why I'm showing both album covers (hover over the image to see both). I will be reviewing this band in my next audio podcast because I thought to start September with the Monthly Music Review section now that I have time.
[UPDATED] - Holy BagPipes Batman!
- I found a cool video of them performing on their website:
https://www.salsaceltica.com
After I watched this video, all I wanted to see their performance live in the clubs there Scottland! Swear to God, just seeing them have fun jumping and down makes me buy a plane ticket! Shout out to our visitors from Scottland.