---
Posted on almost 9 years ago

For those who are ready to add something extra to their cross body leads in salsa dancing, this video will provide three ladies' styling techniques to bring your salsa dancing to the next level. Julie demonstrates three cross body lead variations for ladies: "the hop," "crosses," and "the booty roll." Now that the men have their styling video, we have to spice up our dancing as well!...
---
Posted on over 10 years ago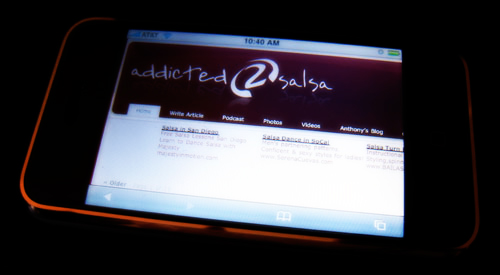 Well, in this episode of our salsa dance video lessons we take a further look some old salsa classics thanks to Karlos (aka 'Z'). We provide a little more jazzy selection for your enjoyment, so you can discover a variety of different salsa artists and styles. You might not like all the songs, but hopefully you'll find some treasures that will make you want to get to know a specific artist a little deeper....
---
Posted on almost 11 years ago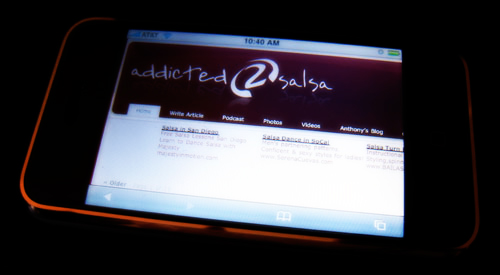 You knew it was coming. So many stories about the wonderful and amazing iPhone from Apple Inc - well, I just had to write my own story. What would a website be without talking about the great Apple iPhone. I have to admit I did stand in line to wait for the thing, but I have to say it has exceeded all of my expectations. I give you a little demo on how I use it most of the time - my salsa music and videos! I guess I consider this the official phone for the addicted2salsa website. :-)...