---
Posted on over 8 years ago
Now that everyone is becoming more experienced with computers, I wanted to give everyone a creative holiday salsa project! About a year ago I created a few salsa music tracks that became very popular with some of our fans and we received several emails asking how any salsero (with a Mac) could make their own. The process is very simple! Garageband, a free application that comes with every Mac computer, allows you to do this with just a few clicks of the mouse. When you start a new project in Garageband, you can select 'New' from the menu and select 'Magic Garageband'. From there all you have to do is select the instruments you like and you are done! You can also add your own clave in Garageband to give it a more salsa feel!...
---
Posted on over 10 years ago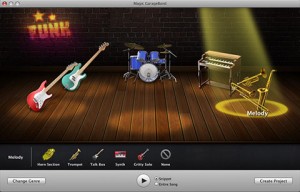 After you get a Mac, a lot of fun things happen. I decided to put my compusic (computer+music) skills to some more good use an make a few interesting Salsa tracks with a program called GarageBand. While I was at it, I made three different versions of this salsa dance soundtrack. Here is the first one: an interesting salsa music trumpet solo with some mixed in jazzy piano, cowbell and congas. Let me know what you think and of course - enjoy!...