---
Posted on over 3 years ago

We have talked about Alma Salera in the past on how inspiring it is to see anyone dance. This video continues to show us that when there is a will, there is always a way. There is no excuse for anyone not to try salsa dancing. Great performance to the crowd with a unique style of fun salsa flavor....
---
Posted on over 7 years ago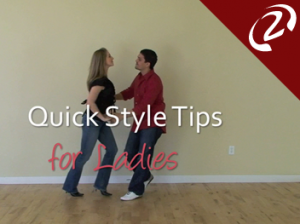 If anyone out there is wondering, "what can I do to improve that doesn't involve the natural process of getting good over time," I have some answers for you. Using body language (one of the main ways people communicate), you can improve how you look when you dance simply by remembering these easy tips. Look at it this way...for dancers who are taking classes or doing what they can to improve their dancing over time, these tips will help you look good while you are in the process of learning. Often, when a dancer is learning something new, the basics are thrown out the window. What ends up happening is that the body language suffers, so while you may have a great new footwork pattern, you've sacrificed some important basics. While you learn, keep these tips in mind, and you'll always look great!
1. Chin Up
The saying, "chin up" is popular for a reason! With your chin down you come across as self-conscious or sad, hence describing personalities as generally "down" or "up." When dancers learn something new or lack confidence in what they are doing, the chin tends to go straight down subconsciously. By reminding yourself to keep your chin up every once in a while, you will give off the perception that you are confident and happy with the dance. An additional benefit is that keeping your chin up enables you to literally "look up to" your partner as you dance, which will be understood as a sign of respect....
---
Posted on almost 8 years ago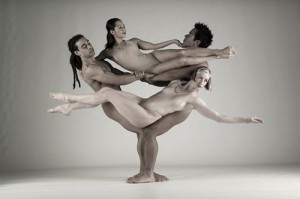 Perhaps the most difficult part of learning to dance for ladies is achieving steady balance. Like most skills, balance takes time and practice to achieve, but here are some ways to speed up the process.
Touch up your timing
Once you have a solid understanding of salsa timing, and begin to memorize which foot corresponds with which beat, you will become much more steady on the dance floor. If we have a poor understanding of timing, then we compensate as we follow by pausing or shuffling steps, which brings us off balance.
Focus on footwork
You can improve timing and balance by practicing footwork on your own (plus it's a great work out). With a nice slow song, concentrate on marking your footwork with the beats in the music. Footwork also forces us to maintain our own balance, without a lead for support....
---
Posted on over 9 years ago
A forum member (Rumnet) found a great video by an instructor exaggerating the salsa basic step on2 timing. Again, if you haven't already check out the forum post "Salsa Technicals : On1 vs On2. The Difference ". This video shows the example of what I have been trying to explain in words. When dancing on2, the pause happens when your feet are apart - and therefore you actually have two whole counts to get your feet back together. While On1 and On2 are TECHNICALLY the same steps, the way they are EXECUTED are different....
---
Posted on about 10 years ago
So I thought I might post something that is pretty useful for me right now. I actually wrote this on a napkin at a club while I was working on my on2. Sometimes I go to the club and I see a move that I like and decompose it. Now, I can't only decompose it now, but I have to 'translate' it to the beat pattern I need to dance on. For example, if I see an On1 move, I need to figure out how to do it On1, and then translate the steps On1. If you have this similar situation on how to translate moves, I give you this useful table:



On1 Steps

NY On2 Steps

PR On2 #1
PR On2 #2



1
<->
6
<->

2
2



2
<->
7
<->
3
3




3
<->
8 (pause)
<->
4 (pause)
4


Neutral
4 (pause)
<->
1
<->
5
5 (pause)



5
<->
2
<->
6
6



6
<->
3
<->
7
7




7
<->
4 (pause)
<->
8 (pause)
8


Neutral
8 (pause)
<->
5
<->
1
1 (pause)


One thing you'll notice is that from On1 to any form of On2, there is no direct step-correlation. Why? Well, its mainly because the pauses taken are in differnt locations. Therefore, dancing On2, is slower than dancing On1. I will write an article later on about what I call 'hang-time' in order to explain this effect - but I hope this table helps some of you trying to decypher any moves you see. The amount of Hang-Time is shown in yellow for each type of style....
---
Posted on almost 11 years ago
Practice, Practice, Practice - at home and at the club!...