---
Posted on almost 7 years ago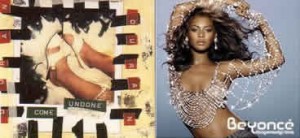 "It's the end of 2009, do you know where your salsa shoes have been?" If you've been a fan of the addicted2salsa audio shows, you'll remember that was the intro line for our Latin Dance Cover Songs pt 1 show which aired ~3 years ago this day. Given the popularity of some of the songs featured, one of our addicted2salsa fans from Southport, England (UK), DJ Ivan Yokhna, sent us a few new Latin cover song remixes that he created. I have posted them below so that everyone can start helping build the Part 2 version of the episode.

Beyonce - Naughty Girl "Salsa" Version Remix (by Dj Ivan VS DJ Ticco)
Duran Duran - Come Undone Latin Remix by DJ Ivan

Given the number of times we've been asked about the Lenny Kravitz salsa version of "Thinking of You" that wasfeatured inSalsa Music Episode #22 , here is a present for all of you....