---
Posted on over 7 years ago

In this episode, we will provide you with three great ways to improve your salsa dance spins. While most of them tend to be 'known' to most intermediate dancers, we have noticed it does not get addressed soon enough to early beginners. Here are the summary of items this episode will cover:

Frame and Position
Dance Prep
Spotting...
---
Posted on about 8 years ago

The 2008 Beijing Olympics may be over, but the salseros/as at the 2008 DC Salsa Congress had a lot of fun in an after party testing who would be the better spinner. I think the video is very funny as it shows what salsa dancers do as a contest (similar to drinking contests). The Bronze medal seems to go to Joey from Puerto Rico. However, due to security Silver and Gold could not be determined between Luis and Emily. Thanks to iMambo.tv for covering the event!...
---
Posted on about 8 years ago
Most articles, forums, and videos emphasize these two ways to learn: in class and at the club. Yet there is so much more that you can do on your own to become a better dancer- no floor or partner necessary. Here are 5 tips to help you learn Salsa on your own, which will help you improve at a MUCH faster rate.

1. MAKE FRIENDS WITH THE MIRROR- Practice body rolls against a wall or mirror, focusing on 'peeling yourself off of the wall'. For a downward roll, start with your head and follow with your chest, stomach, hips, and knees. For an upward roll, come back up with your knees, hips, stomach, chest and finally head. This will give you the muscle memory, and muscles in general, to do great body rolls while dancing....
---
Posted on almost 10 years ago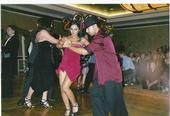 What makes salsa dancing so great for the ladies? Is it the beautiful styling which includes beautiful arms, isolations, and body rolls? Yes, styling is fun to do but that also can be found in many dances such as tango, flamenco, jazz. Can it be the ability to spin endlessly? The answer is yes. The great quality of dancing in salsa is doing multiple spins. This may be an opinionated answer, but there are many great female dancers which capture how spins can be one of the best aspects of salsa dancing. These ladies you will find on the addicted2salsa website are known for not only being spun by a partner, but spinning on their own and "stopping on a dime". Some of these salsera have not obtained that gift of spinning over a day or weeks, but sometimes month or even years. Some people I recall speaking to about spinning have told me it took them either 2 or even 5 years to do multiple spins. Other people who have a well-developed dance background can obtain that skill earlier that a few months or even within a year....
---
Posted on almost 10 years ago
I can just feel all the hate mail that is already headed my way. "Oh, here goes Anthony, talking about On2"... but before you hit that send button - first read the article....
---
Posted on about 10 years ago
So I thought I might post something that is pretty useful for me right now. I actually wrote this on a napkin at a club while I was working on my on2. Sometimes I go to the club and I see a move that I like and decompose it. Now, I can't only decompose it now, but I have to 'translate' it to the beat pattern I need to dance on. For example, if I see an On1 move, I need to figure out how to do it On1, and then translate the steps On1. If you have this similar situation on how to translate moves, I give you this useful table:



On1 Steps

NY On2 Steps

PR On2 #1
PR On2 #2



1
<->
6
<->

2
2



2
<->
7
<->
3
3




3
<->
8 (pause)
<->
4 (pause)
4


Neutral
4 (pause)
<->
1
<->
5
5 (pause)



5
<->
2
<->
6
6



6
<->
3
<->
7
7




7
<->
4 (pause)
<->
8 (pause)
8


Neutral
8 (pause)
<->
5
<->
1
1 (pause)


One thing you'll notice is that from On1 to any form of On2, there is no direct step-correlation. Why? Well, its mainly because the pauses taken are in differnt locations. Therefore, dancing On2, is slower than dancing On1. I will write an article later on about what I call 'hang-time' in order to explain this effect - but I hope this table helps some of you trying to decypher any moves you see. The amount of Hang-Time is shown in yellow for each type of style....