---
Posted on almost 6 years ago

Here is a quick salsa dance move for those who have been waiting for some new salsa dance videos from us and are excited for National Dance Day 2012, but haven't gotten Pocket Salsa yet. We call it the 'Cola Spin' salsa move which comes out of basically a 'coca-cola' like move, with some tai-chi/chuck-norris action into a free spin. Enjoy!...
---
Posted on almost 8 years ago

Cristina Santana, from our near by neighbors in the Los Angeles salsa dance scene, has made it all the way to being in the Top 5 ladies on the TV Show "So You Think You Can Dance" Season 7! We are very excited and proud of Cristina as she had tried out last year and had gone all the way to the Las Vegas try outs on So You Think You Can Dance Season 6, but did not make it. We will be happy to throw our support to Cristina as she is a California favorite to dance with. If you have not seen Cristina dance with Pepe, here are some great videos. If you want more information on So You Think You Can Dance, you can visit http://fox.com/dance or more information about Pepe & Cristina's salsa dance teams, check out their website: http://dancemasterpuppet.com/...
---
Posted on almost 10 years ago

If you haven't yet found out - we are hosting our first contest ever on the website in partnership with FOX and So You Think You Can Dance! You only have a few days left to submit your video. Remember, it just has to be a quick video with a dance pattern that you think people will like! You don't need a fancy camera and you don't need to explain the move. It's that simple! It is something you can do at the end of a salsa dance class! Salsa, Cha Cha, Merengue, Salsaton.. anything goes. [Instructions]...
---
Posted on over 10 years ago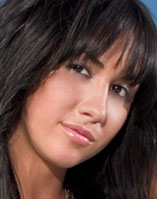 I just can't believe it! My two favorite dancers out of the bunch got voted off. I was thinking I would at least have one of my favorites in the finals (well, maybe Sabra) but man - Pasha and Lauren! Feels like a nightmare and a bad "Laguna Beach" episode. I'm assuming you've been keeping up with the show, otherwise this will be over your head....