---
Posted on over 8 years ago

Since this past weekend was the 8th annual San Francisco Salsa Congress, we thought we'd share some videos from everybody's favorite event: the Jack and Jill! In this event, dancers are paired up randomly with the goal of entertaining the crowd with the best dancing and funniest moves. In this round, especially the Masters, dancers typically imitate others who danced earlier or have some sort of joke within their dance. Last year, it was dancing while talking on cell phones - this year, the theme seems to be taking off shirts. Here are some of the favorites. Thanks to Kristina Quevedo Video Productions for taking the videos below. If you have any other videos from the 2009 San Francisco Salsa Congress - feel free to post them in our comments below. The salsa videos are after the break!...
---
Posted on over 9 years ago

This is a great video of amazingly smooth spins by Danielle (Luv2Spin) dancing at Tequila Ranch Salsa Sundays at the Hard Rock Cafe (I think it's in Miami). This video makes it easy to see good spotting technique and balance since the song they are dancing to is slow. Spinning is not just for girls, Carlos in the video does a triple underarm spin....
---
Posted on almost 10 years ago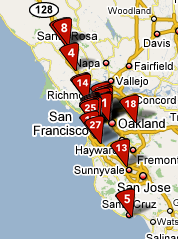 A user submitted us a quick link over at Yelp to some of his short reviews of different places to go dancing in the San Francisco area (California). The San Francisco and Oakland scene is jammed packed with great salsa dancers - and this is especially true for anyone that has attended the San Francisco Salsa Congress (usually in November)....