---
Posted on over 9 years ago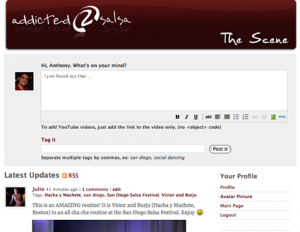 We have known that for some reason the forums have dwindled from their height in popularity in the summer of 2007. Could it be because of the economic recession? Probably not, but we know that the old addicted2salsa forums do need a bailout plan as well....
---
Posted on over 11 years ago
There is something to be said about social dancing. It is a different type of dancing compared to performing - (of course you'll say thats a given). But sometimes, some people forget that. In my case as a leader, its my job to 'entertain' and 'play' with the lady - as well as make her look good. However, what should I be expecting from the lady? Mainly to show me that she's having fun - that gives me the reward that all my hardwork (doing the combos, being smooth, keeping timing, footwork, smiling..etc) is paying off. However, for some dancers, I feel this simple concept is lost....