---
Posted on over 10 years ago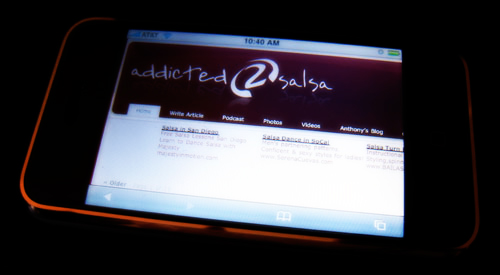 Well, in this episode of our salsa dance video lessons we take a further look some old salsa classics thanks to Karlos (aka 'Z'). We provide a little more jazzy selection for your enjoyment, so you can discover a variety of different salsa artists and styles. You might not like all the songs, but hopefully you'll find some treasures that will make you want to get to know a specific artist a little deeper....
---
Posted on almost 11 years ago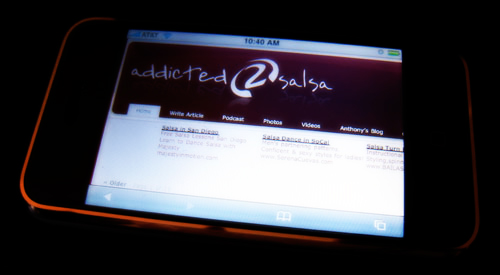 You knew it was coming. So many stories about the wonderful and amazing iPhone from Apple Inc - well, I just had to write my own story. What would a website be without talking about the great Apple iPhone. I have to admit I did stand in line to wait for the thing, but I have to say it has exceeded all of my expectations. I give you a little demo on how I use it most of the time - my salsa music and videos! I guess I consider this the official phone for the addicted2salsa website. :-)...
---
Posted on almost 11 years ago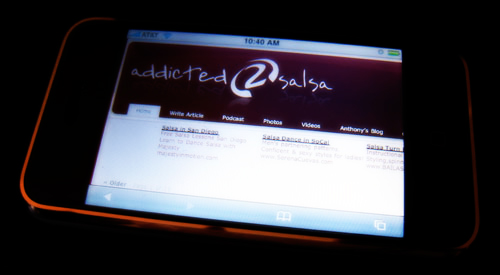 This is probably the most unprofessional episode we've made so far... Well, in this episode of addicted2salsa we have our special guest Karlos Oregel providing us some of his preferred salsa songs from his vast collection. We also talk a little bit about the artists and go off on tangents as usual. Hopefully you'll enjoy the song selections as well as our special guest! Enjoy and send your feedback. Our song list is as follows:<br/> <br/> <br/>Soy Profesional by Justo Betancourt <br/> <br/>El Mulato Rumbero by Louie Ramirez <br/> <br/>Suavito by Richie Ray and Bobby Cruz <br/> <br/>Noche de Salsa by Paquito D'Rivera and Louie Ramirez <br/> <br/>Baho-Kende by El Gran Combo de Puerto Rico <br/> <br/>Jacobo Basura by Bobby Valentin <br/> <br/>Las Chicas de Venezuela by Pete 'El Conde' Rodriguez...