'Salsa-dance' Dance Articles
---
Posted on about 10 years ago

San Diego is a young salsa city. It is not as mature as San Francisco, Los Angeles or (even close) New York in terms of the salsa community. However, a lot of progress has been made over this last year. We have had Junior and Emily, Mambo2Salsa by Angel and Tulane, and Serena Cuevas' team (yet to be nicknamed and announced) begin to grow in San Diego.Today, a new dance team as come to San Diego: Sakara (www.sakara.us). The uniqueness of this dance team is the incorporation of enormous amounts of isolated body motions in their routine and style - which is a refresher to having to do zillion of patterns. Their tag-line: 'fluidity of movement'. It is a breath of fresh air. .....
---
Posted on over 10 years ago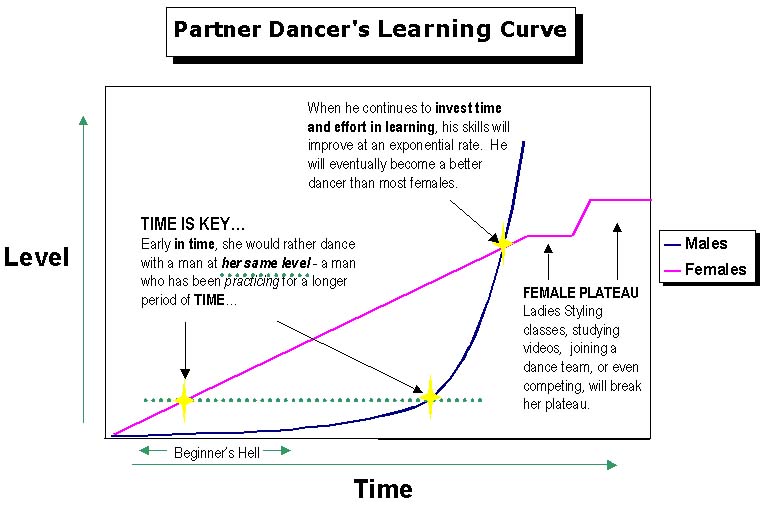 Now, I've been so busy with my real life (work), that I haven't been able to even go out dancing! Yes, I know its blasphemy around this site. However, looking over some old files, I found a great treasure that I'd like to share....
---
Posted on over 10 years ago

If you want to become a better salsa dancer, learn a different dance. Thats right, I said it. Learn something else. Why? Because it might just give you a new perspective on dancing in general, and that may just benefit your Salsa in more ways than you might expect.<br/><br/>I love Salsabut I admit that it was not my first love. That title belongs to swingLindy Hop to be more specific. But thats ok, because had it not been for my love of one particular dance style, I would never have ventured to others, including Salsa. My experience has taught me that you can always learn something new and apply it to something you already know. The benefits of doing this can lead to increased kinesthetic knowledge of how your own body can move, dance innovation by applying elements of one dance style to another, and improved dance technique. My disclaimer is that not everyone takes away the same thing(s) from each style of dance, so I will share a few examples of what I have learned along the way:...
---
Posted on over 10 years ago
I would like to send a thanks to Jan for sending me this link to this article. It talks specifically on the comparison of the salsa scenes portrayed in 'El Cantante' the movie compared to the salsa scenes of today. You can find the article here: Salsa Spins Beyond its Roots....
---
Posted on over 10 years ago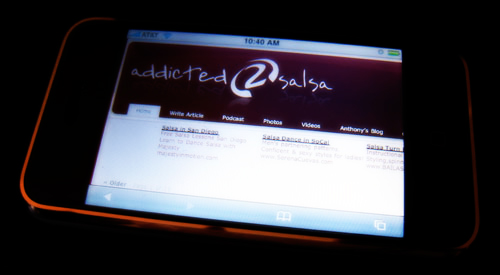 Well, in this episode of our salsa dance video lessons we take a further look some old salsa classics thanks to Karlos (aka 'Z'). We provide a little more jazzy selection for your enjoyment, so you can discover a variety of different salsa artists and styles. You might not like all the songs, but hopefully you'll find some treasures that will make you want to get to know a specific artist a little deeper....
---
Posted on over 10 years ago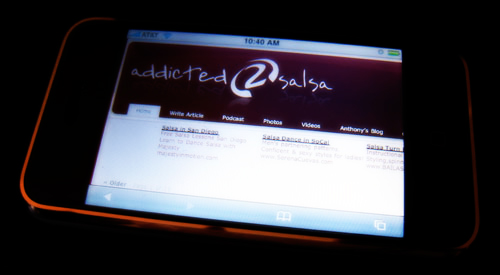 You knew it was coming. So many stories about the wonderful and amazing iPhone from Apple Inc - well, I just had to write my own story. What would a website be without talking about the great Apple iPhone. I have to admit I did stand in line to wait for the thing, but I have to say it has exceeded all of my expectations. I give you a little demo on how I use it most of the time - my salsa music and videos! I guess I consider this the official phone for the addicted2salsa website. :-)...
---
Posted on over 10 years ago

Well, I haven't been this excited since coconut shreds started coming covered in chocolate. The 1st San Diego Salsa Festival 2007. 'nuff said. This event is going to rock and kick some serious butt. It is the first big event in partnership with Albert Torres that will be held in San Diego, CA. Home of (me) the new addicted2salsa.com guy. This event is also in conjunction with one of the most influential dance instructors in the San Diego area : Angel and Tulane Rivera...
---
Posted on over 10 years ago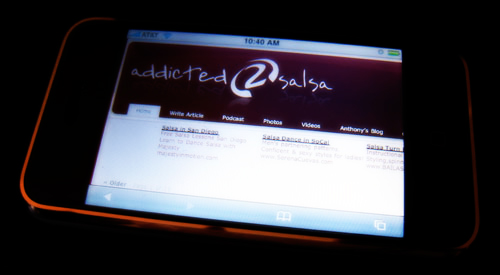 This is probably the most unprofessional episode we've made so far... Well, in this episode of addicted2salsa we have our special guest Karlos Oregel providing us some of his preferred salsa songs from his vast collection. We also talk a little bit about the artists and go off on tangents as usual. Hopefully you'll enjoy the song selections as well as our special guest! Enjoy and send your feedback. Our song list is as follows:<br/> <br/> <br/>Soy Profesional by Justo Betancourt <br/> <br/>El Mulato Rumbero by Louie Ramirez <br/> <br/>Suavito by Richie Ray and Bobby Cruz <br/> <br/>Noche de Salsa by Paquito D'Rivera and Louie Ramirez <br/> <br/>Baho-Kende by El Gran Combo de Puerto Rico <br/> <br/>Jacobo Basura by Bobby Valentin <br/> <br/>Las Chicas de Venezuela by Pete 'El Conde' Rodriguez...
---