---
Posted on almost 10 years ago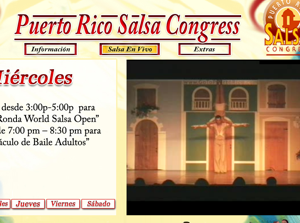 For those who cannot make it to the Puerto Rico Salsa Congress this year, they have added a new feature. They are currently broadcasting a live stream of the dance performances on their website. So while you couldn't make it, you can still watch most of the action over the internet....
---
Posted on almost 10 years ago

While answering a few basic cha-cha dance questions in the forums, I found a great video that helped illustrate how you can lead different styled cross-body leads in cha-cha (where you can skip the cha-cha step). You can always stick to the basic in doing the cha-cha step in place while performing a CBL, but after a while, that gets pretty boring (yawn!)....