---
Posted on about 9 years ago

I just came across a beautiful performance by Masacote Dance Company from Boston, MA that I wanted to share with everyone. This performance has so many levels to it; it is truly a work of art. Rarely do we see symbolism in salsa choreography, and rarely do we see music written specifically for the choreography. I love the creativity in this performance, and especially the interplay between the dancers and the musicians. Great musicality is my weak spot - I think it really embodies what dance is. I hope you all enjoy it, and thanks to Dany J. (ScarletMambo) for posting this video!...
---
Posted on about 9 years ago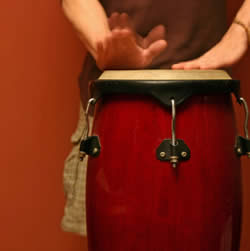 Here at addicted2salsa, we try (when we can) to contribute salsa news, videos and information that can hopefully improve your overall salsa dancing and social lifestyle. We are glad to see many others sharing their passion and enthusiasm for salsa dancing and music on the internet. This weekend I found a good blog that DJDoubleC posted in our social site: the very recent Salsa-Musicality blog . I was very enthusiastic and impressed with the wealth of information that this author has posted. From his description, he wanted to become a better dancer by learning how to play the instrument, probably because it helps people find the salsa dance beat:<br/> "I know about Salsa, Percussion, and how to mix the two! Here are my thoughts and findings related to salsa, salsa dancing, percussion, and musicality. After spending years and years looking like "just another gringo!", I decided to learn how to dance properly. How did I do it? I learned percussion, and then it all just "clicked"!" - Salsa Musicality Blog...
---
Posted on about 9 years ago
This video is Oliver and Luda "performance social dancing" (non-choreography) to the famous song "Hacha y Machete". I'd like everyone to watch this video at least three times and pay attention to a few very important things. Enjoy the video on your first viewing of course! On your second, pay attention to the body movement. The song "Hacha y Machete" has a lot of detailed instrumentation, and Oliver, probably having heard and danced the salsa song many times, can showcase the minute detail of those instruments through his body movement. You can even see how his shimmies match the change in percussion rhythm in the song when they break apart (you might have to raise the volume to hear). On you third viewing, pay very close attention to his ability to control his movements perfectly in shines as well as in partner work. He is able to stop fast turns on "a dime", perform smooth yet controlled hand movements of his patterns without affecting Luda's balance, and his ability to stay on perfect timing. These are the types of dance attributes and techniques that all salsa dancer should hope to perfect, regardless of your style of salsa....
---
Posted on over 9 years ago
Here are some videos I've seen recently and just thought, WOW. The styling and musicality of these San Diego ladies can teach us so much: I am happy to be able to learn from them. Of course, there are many more- if anyone has more ladies styling videos to share, please post them. Enjoy!<br/><br/>Serena Cuevas of Deseo Dance Company<br/><br/><br/><br/>Jennifer Stein of Majesty in Motion<br/><br/>http://youtube.com/watch?v=cr-swhHZM9k...