'Mambo' Dance Articles
---
Posted on about 9 years ago
In this episode of Addicted2Salsa Dance Lesson show, we travel a bit to the East Coast in order to show you a very common and popular move to do at the salsa dance nightclub. The first move, which I call the "Cyclone Bounce" for no apparent reason, can be seen in many salsa dance congress on the East Coast. The second dance move is really taking most of the concepts from the The Windmill Combo salsa dance episode and putting a different spin on it. In the end, Julie will have a special section to showcase ladies' styling for the follows. Credit goes to David Stein for the inspiration for these moves....
---
Posted on over 10 years ago

San Diego is a young salsa city. It is not as mature as San Francisco, Los Angeles or (even close) New York in terms of the salsa community. However, a lot of progress has been made over this last year. We have had Junior and Emily, Mambo2Salsa by Angel and Tulane, and Serena Cuevas' team (yet to be nicknamed and announced) begin to grow in San Diego.Today, a new dance team as come to San Diego: Sakara (www.sakara.us). The uniqueness of this dance team is the incorporation of enormous amounts of isolated body motions in their routine and style - which is a refresher to having to do zillion of patterns. Their tag-line: 'fluidity of movement'. It is a breath of fresh air. .....
---
Posted on over 10 years ago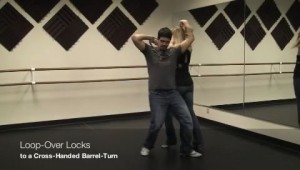 Well, after getting great feedback from all of you, here it is - a more complicated salsa pattern. It is a very long pattern, so take it in strides and small bites. We have named the individual moves to help you piece the entire salsa combination together. Now, because it is Valentine's Day (soon) - you can have something to practice with that special someone :-) .Enjoy and if you have questions, please ask it at our forums http://addicted2salsa.com/facebook/ !...
---
Posted on over 10 years ago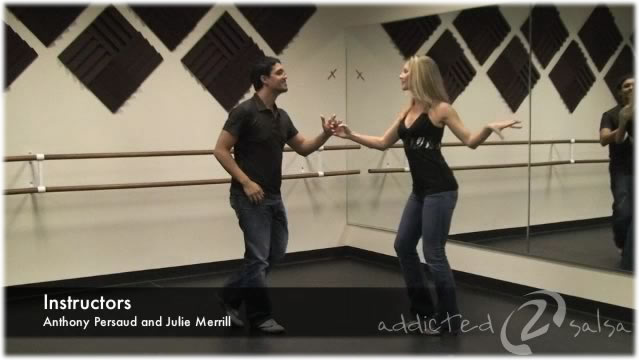 So, here we are again with a simple salsa dancing move for you to mix it in to your other moves. Remember, it is not about having multiple long combos, but about putting smaller ones together in different orders.That will keep your moves fresh and keep the ladies guessing what you will do next. Additionally, for those who are thinking about on2, I make a small note for you to pay attention to the counting rhythm when performing the move. Enjoy!...
---
Posted on over 10 years ago

Stumbling upon youtube videos again, one of our friends found this great performance by the Santo Rico dance team. I may not have mentioned them in a while, but here is a great find. They are some of the most amazing spinners you will ever see in performances throughout the world. One thing to notice, for us technical dancers, is that the men have a very unique prep that is circular, compared to the 'double-J' prep to lead multiple turns. Regardless, this is a must watch video for us looking for inspiration....
---
Posted on over 10 years ago
The wonderful (possibly future co-host) Julie sent me these videos, and I found them to be inspirational. It is of course a biased list since you have some of my favorite-styled dancers there....
---
Posted on almost 11 years ago
I would like to send a thanks to Jan for sending me this link to this article. It talks specifically on the comparison of the salsa scenes portrayed in 'El Cantante' the movie compared to the salsa scenes of today. You can find the article here: Salsa Spins Beyond its Roots....
---
Posted on almost 11 years ago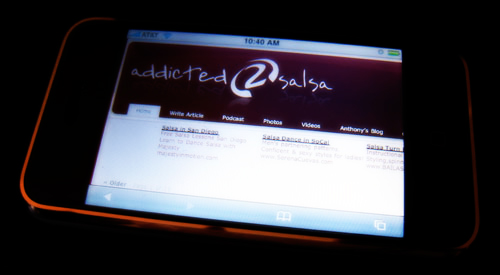 Well, in this episode of our salsa dance video lessons we take a further look some old salsa classics thanks to Karlos (aka 'Z'). We provide a little more jazzy selection for your enjoyment, so you can discover a variety of different salsa artists and styles. You might not like all the songs, but hopefully you'll find some treasures that will make you want to get to know a specific artist a little deeper....
---