---
Posted on over 7 years ago

Have a friend or family member that you'd like to give them some salsa lessons? Why not a copy of our salsa dancing video lessons for their mobile device! Now they can watch and learn over 100 salsa dance moves, going from beginner to advanced, where ever they are! This will help them get on that salsa dance floor quickly and with confidence.It makes a great gift for the any occasion!...
---
Posted on almost 8 years ago

If you follow us on Facebook or Twitter, you might have guessed why we have been very quiet over the past few months. While I am a salsa enthusiast, I'm also a "technologist" at heart (a.k.a "geek"). A few months ago, I started working on our first iPhone / iPod Touch application to help create a quick mobile reference guide to common salsa moves that everyone learns at their classes. My hope is that by allowing you to access any salsa learning material on the go, it will motivate you to practice "anywhere", and therefore help you become a better dancer faster than you can sing "very simple" to clave.While we wait for Apple to approve our application submission to the AppStore, we decided to make a quick video to give you a preview on what to expect....
---
Posted on over 9 years ago

Kelly Rice over at Ritmo Bello wrote an article providing 5 tips on how to dance on a budget during tough economic times. While I leave it to you to check out her article for the details, she mentions: taking group classes, getting involved with the community, practicing everywhere, watching others dance and setting up a trade agreement (bartering).<br/><br/>Here in San Diego, on average, a group class costs around $10-$13 and cover costs for a club are $8-$10. If you then add the micro-expenses related to salsa (gasoline, bar drinks (water), clothing and an extra shower a day, etc) - it adds up very quick if you go out dancing several times a week.<br/><br/>Knowing that fewer students are able to spend that much in salsa dance classes, paying for gas, parking and cover costs at the club, I decided to add my two cents to help you 'recession proof' your salsa lifestyle. While I am not an economist or financial adviser, here is my list of ways to help your salsa lifestyle while on a budget....
---
Posted on almost 11 years ago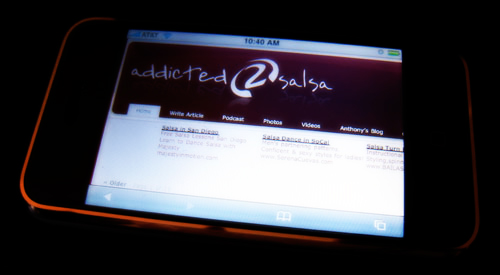 You knew it was coming. So many stories about the wonderful and amazing iPhone from Apple Inc - well, I just had to write my own story. What would a website be without talking about the great Apple iPhone. I have to admit I did stand in line to wait for the thing, but I have to say it has exceeded all of my expectations. I give you a little demo on how I use it most of the time - my salsa music and videos! I guess I consider this the official phone for the addicted2salsa website. :-)...