---
Posted on about 8 years ago

Inspired by the Violin Solo that I created with GarageBand a few months ago, a Addicted2Salsa Facebook fan asked if I could recommend a good salsa dancing song that contain a good violin section. And of course, I remember the West Coast Salsa Congress when the group Hacha y Machete (Victor and Burju) performed the song "Hacha y Machete" with Alfredo De La F, a famous violinist. I decided to post it here so that everyone could enjoy it as well....
---
Posted on about 9 years ago
This video is Oliver and Luda "performance social dancing" (non-choreography) to the famous song "Hacha y Machete". I'd like everyone to watch this video at least three times and pay attention to a few very important things. Enjoy the video on your first viewing of course! On your second, pay attention to the body movement. The song "Hacha y Machete" has a lot of detailed instrumentation, and Oliver, probably having heard and danced the salsa song many times, can showcase the minute detail of those instruments through his body movement. You can even see how his shimmies match the change in percussion rhythm in the song when they break apart (you might have to raise the volume to hear). On you third viewing, pay very close attention to his ability to control his movements perfectly in shines as well as in partner work. He is able to stop fast turns on "a dime", perform smooth yet controlled hand movements of his patterns without affecting Luda's balance, and his ability to stay on perfect timing. These are the types of dance attributes and techniques that all salsa dancer should hope to perfect, regardless of your style of salsa....
---
Posted on about 9 years ago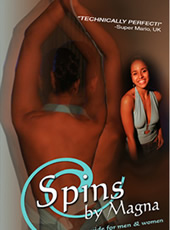 [Updated] Here are the winners based on our random comment selection. Congratulations to:<br/> <br/> 1st Place Winner of the Magna Spins DVD: "Susan C" Comment #3616 <br/> 2nd Place Winner of the Hacha y Machete DVD: "Marco" Comment #3430 <br/> <br/>Thanks for everyone for entering and supporting Addicted2Salsa. We will have more contests in the future - stay tuned!<br/><br/>To celebrate Anthony's 28th birthday on February 10th, 2009, Addicted2Salsa has decided to offer a DVD to a randomly selected contestant. To enter the contest, you must have a valid email and postal address (where we can ship the DVD). All you have to do is leave ONE comment below. The comment doesn't matter (it can be a simple 'Happy Birthday Anthony!'). Only one entry per person. Addicted2Salsa will be mailing the prize DVDs to the winners. We will be selecting TWO winners in this contest!<br/><br/><br/><br/>For our first lucky winner, we are giving away the famous Magna Gopal Spins DVD (region 1) that helps both men and women improve on spinning! This DVD is helpful for dancers of all levels to increase stability, balance, and achieve overall better spinning technique. Magna is an excellent instructor, who breaks down concepts very well and makes her teachings easy for all to understand. This is a DVD everyone must have in their collection.<br/><br/>The second randomly selected winner will win the Hacha y Machete Intermediate Patterns Vol 1 DVD (Region 1). If you love complicated dance patterns and want to learn how to do a bit of styling like Burju - this is the DVD for you! (And of course, if you win it, its FREE).<br/><br/>The contest ends February 10th, 2009 at 11:59pm CST. The TWO winners will be announced on February 12th, 2009. Good luck to everyone!...