---
Posted on about 9 years ago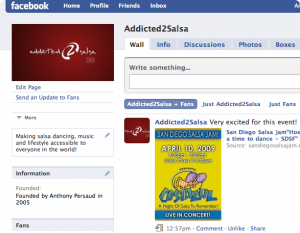 If you have been following ourAddicted2Salsa Fan page, you know that we are giving away TWO free event tickets to two lucky winners for the San Diego Salsa Jam that is happening on April 10th, 2009 hosted by A Time to Dance and the San Diego Salsa Festival....
---
Posted on about 9 years ago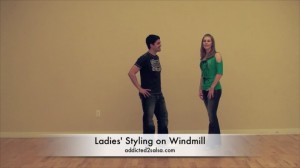 In this episode of Addicted2Salsa salsa dance video lessons, we will show you how to perform a basic salsa windmill combination into what we call the "hourglass copa". The Windmill is very similar to other moves you have done that require an cross-body lead with an outside turn, except this is just a variation in styling of that basic move. The hourglass copa is based off of basic copa move (a.k.a in-and-out), except that the lead requires the use of two points of contact on the ladies' shoulder blades....
---
Posted on over 9 years ago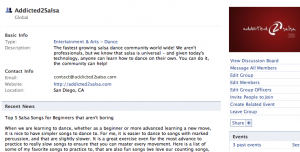 I have seen several more salsa dance groups and companies get on the Facebook bandwagon. This brings a lot of excitement because it allows people from different salsa scenes to find one another using the tools that we use for our social habits. Since, using these tools have grown in popularity, I'd like to just remind everyone of our groups so that they (cough..cough..) grow and become more (cough..cough..) popular. :-)...