---
Posted on about 9 years ago

In this episode, we will provide you with three great ways to improve your salsa dance spins. While most of them tend to be 'known' to most intermediate dancers, we have noticed it does not get addressed soon enough to early beginners. Here are the summary of items this episode will cover:<br/> <br/> Frame and Position <br/> Dance Prep <br/> Spotting...
---
Posted on about 10 years ago

San Diego is a young salsa city. It is not as mature as San Francisco, Los Angeles or (even close) New York in terms of the salsa community. However, a lot of progress has been made over this last year. We have had Junior and Emily, Mambo2Salsa by Angel and Tulane, and Serena Cuevas' team (yet to be nicknamed and announced) begin to grow in San Diego.Today, a new dance team as come to San Diego: Sakara (www.sakara.us). The uniqueness of this dance team is the incorporation of enormous amounts of isolated body motions in their routine and style - which is a refresher to having to do zillion of patterns. Their tag-line: 'fluidity of movement'. It is a breath of fresh air. .....
---
Posted on about 10 years ago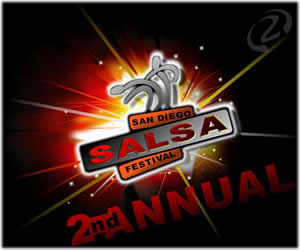 It's back!!!! The 2nd Annual San Diego Salsa Festival, brought to you by Angel and Tulane Rivera in association with Albert Torres Productions, will be held September 19-21, 2008 at the Four Points Sheraton! We had so much fun at this event last year-- the shows were amazing, there were workshops from the best dancers out there, and of course social dancing until the wee hours of dawn. There was a warm, unifying atmosphere all around, showing that this event will keep growing and be even more amazing this year! <br/>They will have LIVE MUSIC by the band Lucky 7, music by Super DJ Robby and DJ Frank until 4am, not to mention over 40 WORKSHOPS, professional dance shows, and a COMPETITION which is a qualifier to the World Salsa Championships on ESPN....
---
Posted on about 10 years ago

Dear Addicted2Salsa, <br/> Love your blog &amp; podcast! <br/> So I have a question for you: What is the best way to learn to salsa? I have been dancing salsa for several months now, and mostly Ive just been going to different clubs, and picking up moves from various salsa lessons. I feel like Ive learned the basics, and I know a few combos now, but I still feel pretty nervous about stepping onto the dance floor. <br/> So what is the best way to take my salsa to the next level? Private lessons seem pretty pricey, but is that the best bet? Should I invest in salsa videos? Or is the best way to just keeping going out to the clubs? <br/> Salsaholic <br/>Thanks for writing Addicted2Salsa! I am Julie, the co-host, and had some ideas to share about the salsa learning process.<br/><br/>I'm a big believer in moderation. Classes will provide your technique, knowledge of footwork and combos, and maybe correct errors you've developed (if the instructor gives personalized attention). Social dancing trains your ear to the music, enables you to adapt to different followers/leaders, and expands your social network (so you can improve by dancing with better dancers). If you put in the effort, you can improve quite a bit social dancing...but it cannot be a passive process. You have to really listen to the beats of the music, and carefully observe dancers who are better than you to watch their combinations, footwork, technique, and style. If you do all of this, AND take group classes, you will improve. As with everything, frequency will improve you at a much faster rate, so going out four nights per week is better than two, and classes with different instructors helps to see different methods of teaching.........
---
Posted on over 10 years ago
The wonderful (possibly future co-host) Julie sent me these videos, and I found them to be inspirational. It is of course a biased list since you have some of my favorite-styled dancers there....