---
Posted on almost 5 years ago

We have talked about Alma Salera in the past on how inspiring it is to see anyone dance. This video continues to show us that when there is a will, there is always a way. There is no excuse for anyone not to try salsa dancing. Great performance to the crowd with a unique style of fun salsa flavor....
---
Posted on over 8 years ago
If you didn't catch the new NBC show called "The Sing-Off", you missed something pretty cool. The Sing-Off is a competition which mixes the aspects of a capella singing, show choir (similar to the TV show "Glee") and American Idol. Keeping up with American cover songs remixed into Salsa-like rhythmz, a group from my hometown of San Juan, Puerto Rico, called NOTA. NOTA is the term for a musical note in Spanish. They sang a salsafied version Jason Mraz's "I'm Yours" in a capella that I think you are sure to enjoy. I think they mixed the song styles very well, even including a nice big symbal-ish clave as a transition point. I'll be waiting for their album if they keep it up!...
---
Posted on over 8 years ago
One of our good friends, Serena Cuevas from Deseo Dance Co., made a guest star appearance with Cristian Oviedo (another addicted2salsa favorite) at last night's show of "Dancing With the Stars". They performed alongside another couple, to a new song called "Tu Conga Bach" by group Tiempo Libre. Great job to Serena and Cristian, both in orange in the video, for once again showcasing great Latin dance performances to the world. Don't forget to give us a ride when you become even more famous and drive a new Bugatti!...
---
Posted on over 8 years ago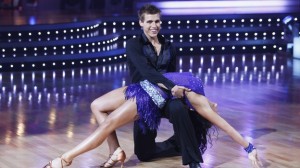 Don't miss the season premiere of Dancing With The Stars tonight on ABC! As always, a diverse group of stars will be paired with dance professionals to compete in various ballroom dance genres. Check it out tonight at 8/7 central!...
---
Posted on almost 10 years ago
This is an exciting week in dance competitions! Not only will Addicted2Salsa contest finalists be chosen (last minute entries accepted until midnight tonight!), Dancing With The Stars narrows down to the very last couple as well. Anthony and I have not only followed the show this season, we got the chance to attend a recording of one of the shows. It was an exciting experience to see the behind the scenes action, and watch the dancers up close. The dance moves were even more impressive in person, as were the costumes, make-up and tans. We watched Kristi, Marissa, Cristin, Jason and Shannon dance their way to the top. Since then, Shannon and Marissa have been eliminated, but this week the winner will be decided! Check out the season finale tonight (Monday), 8/7c and Tuesday 9/8c for the results show on abc. The only stars remaining are Kristi-the Olympic champion figure skater, Cristin-the international film star, and Jason-NFL man of the year: who is your favorite dancer? Let us know in the forums!...