'Dance-patterns' Dance Articles
---
Posted on about 9 years ago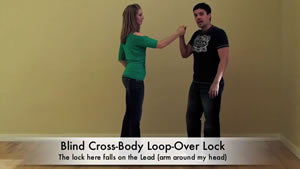 In this episode of Addicted2Salsa we show you how to perform a basic blind cross-body lead with a loop-over lock salsa move. While the move may look easy at first, it is the timing and the proper leading where some may have difficulties. Also, we will take it and chain it together, going from a cross-body hammer-lock to a reverse loop-over. I consider this a more intermediate dance pattern because you have to be very careful on how you lead this move. These moves done incorrectly can hurt the girl in VERY bad ways. At the very end of the episode, we decided to add one of our bloopers from filming. Enjoy!...
---
Posted on over 11 years ago

This is the famous double-lock salsa dancing combination where the lady ends up with her hands locked behind their backs - which will make leading difficult if not done properly. This salsa dance combo is very tricky to perform right, so practice it various times at home to get the timing down: especially the mechanics of moving around the lady and moving their arm down (so you dont break it)....
---
Posted on over 11 years ago

So I decided to release this episode a little earlier than normal. One of our members asked about different ways of getting out of hammerlock positions. In this episode of addicted2salsa, I show you a couple of simple ways to get out of and one slick/combo way. Please some of these moves require practice and patience so you do not hurt the ladies arm. Ladies, this is the best way to practice your copa step....
---
Posted on over 11 years ago

Well, we are here again, bringing you a simple, yet slick salsa combo you can learn and use at the club (or wherever). This combo uses a lot of simple elements (half a turn), with a drop hands, and then a blind cross body lead while switching hands. In addition, we use the concepts of a wrap and a copa to finish off the combo. (You can check some of the moves in an earlier podcast)....
---
Posted on almost 12 years ago

Well, say this three times fast! "Double-handed, hand holds". So it might be easy.. but sometimes we get stuck in weird hand positions. Here is another episode of the Addicted2Salsa Podcast! Today we go over a couple of slick ways of getting out of two-handed holds in combos....
---
Posted on almost 13 years ago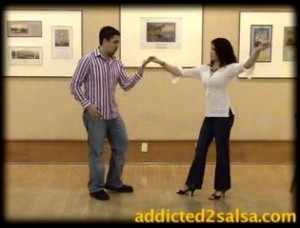 This week's episode is basically showing you a set of minor hand techniques (cues) that might help you when you are dancing salsa. Again, we try our best to show you what we know so you can catch up to most of them out there. We do not say we are professionals, but we try our best because we love to teach what we learn and know......
---
Posted on about 12 years ago

Well, another episode from filming in Ames, IA.... yes, it's another rushed episode, so we didn't have time to reherse because our students were walking through the door.... we apologize.. ;-) Anyway, in this episode, we each a very simple turning combo that taps into a reverse-open-break. Then, the ladies will open (and maybe wink) and finish turning while the lead picks them up to finish with a .., I hope you enjoy it......
---
Posted on about 12 years ago

In this salsa dancing video lesson episode of the salsa podcast, we show you how to do some 'magichands' drop, a quick hammerlock to a cross-body lead, and then to a copa for the ladies. Again, we will setup a donation system through paypay since we are running out of funds and would like to have better podcasts!...
---