---
Posted on over 7 years ago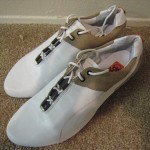 In the large spectrum of dance shoes, there is very little written about the variety of options available to men. Now that I have gone through enough salsa dance shoe phases, it is time to provide my experience and mini-reviews of the dance shoes I have worn throughout my salsa lifetime.

If you have been a long time fan of the addicted2salsa podcast, you may have noticed the original shoes that I wore for the series. Those days are gone, and so are those shoes that were given the famous name, 'salsa boots'. Here I present an overview of my dance shoe evolution throughout different stages of my salsa life.

While I know beginners are sometimes preoccupied with having a good set of dance shoes since they will help their 'salsa game' - most of these shoes only add an incremental amount of performance enhancement compared to proper training and execution of footwork and patterns. Shoes are no replacement for real salsa dance practice.

This is the list of shoes I will be comparing in order of how I bought and used them:

The Street Shoes
The Bloch Sneakers
The Jazz Shoes
The Latin Ballroom Shoes
The Practice Sneakers
The "Pointy" Shoes
The Modern Suede Shoe...