'Basic-steps' Dance Articles
---
Posted on over 7 years ago

This video Cha Cha lesson of Addicted2Salsa will teach you the basics of Latin style cha cha dancing. We will go over the basic step of Cha Cha dance for beginners and instruct you with basic dance partnering. If you are coming from a salsa dancing background, we will show you how you can transfer your salsa dance moves and patterns over to Latin Cha Cha by exchanging the pauses in the salsa dance steps with the Cha Cha (triple) step. At the end, we provide you with a set of intermediate cha cha dance moves for the Latin dance club....
---
Posted on over 8 years ago

If you haven't yet found out - we are hosting our first contest ever on the website in partnership with FOX and So You Think You Can Dance! You only have a few days left to submit your video. Remember, it just has to be a quick video with a dance pattern that you think people will like! You don't need a fancy camera and you don't need to explain the move. It's that simple! It is something you can do at the end of a salsa dance class! Salsa, Cha Cha, Merengue, Salsaton.. anything goes. [Instructions]...
---
Posted on about 10 years ago
So I thought I might post something that is pretty useful for me right now. I actually wrote this on a napkin at a club while I was working on my on2. Sometimes I go to the club and I see a move that I like and decompose it. Now, I can't only decompose it now, but I have to 'translate' it to the beat pattern I need to dance on. For example, if I see an On1 move, I need to figure out how to do it On1, and then translate the steps On1. If you have this similar situation on how to translate moves, I give you this useful table:



On1 Steps

NY On2 Steps

PR On2 #1
PR On2 #2



1
<->
6
<->

2
2



2
<->
7
<->
3
3




3
<->
8 (pause)
<->
4 (pause)
4


Neutral
4 (pause)
<->
1
<->
5
5 (pause)



5
<->
2
<->
6
6



6
<->
3
<->
7
7




7
<->
4 (pause)
<->
8 (pause)
8


Neutral
8 (pause)
<->
5
<->
1
1 (pause)


One thing you'll notice is that from On1 to any form of On2, there is no direct step-correlation. Why? Well, its mainly because the pauses taken are in differnt locations. Therefore, dancing On2, is slower than dancing On1. I will write an article later on about what I call 'hang-time' in order to explain this effect - but I hope this table helps some of you trying to decypher any moves you see. The amount of Hang-Time is shown in yellow for each type of style....
---
Posted on about 10 years ago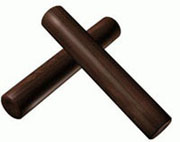 Well, it finally happened. I can dance on2 much better than I started. I really don't have to think about counting that much anymore (I do have my screw-ups, but I quickly realize and fix them). It happened this week. I went dancing every day except Monday for at least 2-3 hours (on2). But, guess what? I had to dance on1 with some ladies in the crowd - and OH MY... I couldn't. I literally forgot what on1 was. My feet didn't feel right, they didn't step in the right spots - I ended up autocorrecting myself to go back on2. I guess I've built the new 'on2' white blood cells and they are kicking the on1 cells out... in the words of Rodney King: Can't we just all get along?...
---
Posted on almost 11 years ago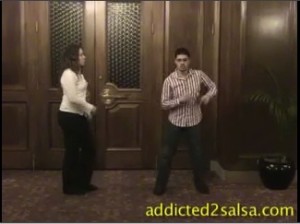 After such a long hiatus, we are back! We have received your emails requesting a more longer beginner lesson, so here you have it. In this episode we review the basic front-and-back salsa step (different angles), the side-to-side break, the right turn and partnering. Hopefully this helps many of you get started in salsa dancing!...
---
Posted on almost 11 years ago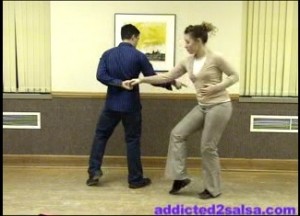 I would like to provide credit where credit is due. I reverse-engineered this move on a video I saw of some really good dancers dancing at a club! (Sorry, dont know their names, but they were good)! Anyway, this is a tight combo that can be linked together with other combinations you might know. Of course, like every episode we add some styling so you can get started!...
---
Posted on almost 11 years ago

Again, we are only getting to learn how to use FinalCut Pro for video editing, so please bear with us on our video quality but here is our first published . It is basically putting right turns and crossbody leads with styling. You can do it over and over again so you can practice those two fundamentals!...
---
Posted on almost 11 years ago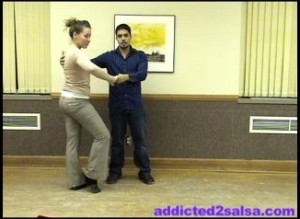 This episode will teach everyone the basic crossbody lead in salsa dancing. For most of you, this will be a very essential move to pull-off some of the other complicated combinations. In addition, we add some styling techniques to make your crossbody leads better for both MEN and WOMEN!....
---
Posted on almost 11 years ago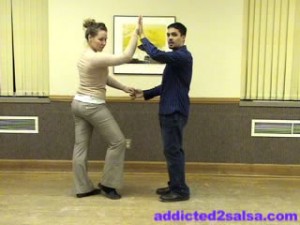 Here is the free dance video that will help you get started with the salsa dance basic step. This episode will review the basic steps of the salsa (front-back) step On1. We also teach you how to perform a simple right turn, and for the guys, how to lead a right turn when in open position. Hopefully this will get you started dancing salsa!...
---