---
Posted on over 10 years ago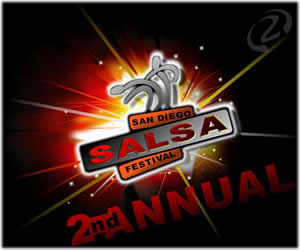 It's back!!!! The 2nd Annual San Diego Salsa Festival, brought to you by Angel and Tulane Rivera in association with Albert Torres Productions, will be held September 19-21, 2008 at the Four Points Sheraton! We had so much fun at this event last year-- the shows were amazing, there were workshops from the best dancers out there, and of course social dancing until the wee hours of dawn. There was a warm, unifying atmosphere all around, showing that this event will keep growing and be even more amazing this year! <br/>They will have LIVE MUSIC by the band Lucky 7, music by Super DJ Robby and DJ Frank until 4am, not to mention over 40 WORKSHOPS, professional dance shows, and a COMPETITION which is a qualifier to the World Salsa Championships on ESPN....
---
Posted on about 11 years ago

So, still editing the HOURS of videos I took from the LA Salsa Congress this past weekend. Now, because of bandwidth limitations, I won't be able to post all the video footage I took, however I will try and make a montage on the best that I took. I have already posted some of the videos of the addicted2salsa members dancing in the forums . Here I present a few more:<br/>First of all, here is some style that is specifically of the city of Los Angeles. Here is the famous Alex Da Silva dancing with his partner at the LA Salsa Congress. While I'm not a big fan of the LA Style - he still makes it look like you want to learn it. Simply incredible....