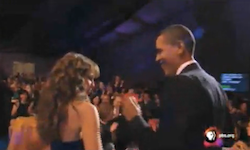 No matter which political group you may affiliate yourself with, you have to give major 'props' to our President for being able to get down with some Latin music, dancing and partying. He will probably be one of the most rhythmically skilled Presidents we've had in forever. Make sure you watch the second video: you can see Marc Anthony dance with Jennifer Lopez, the President dancing with his daugther and later, his daugther playing the timbales. Here's to hoping they'll visit our website someday!
The videos are after the break.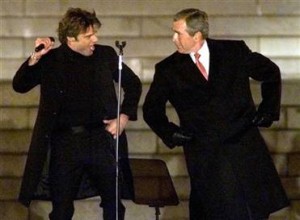 [Update]
Some commenters have pointed out the possible unfairness of the article and so, to keep things fair, here is a picture of our previous President, President George W. Bush, Livin' La Vida Loca on stage with Ricky Martin back in 2001.
https://www.youtube.com/watch?v=1dyvou-6hHY
https://www.youtube.com/watch?v=IGjypNrcyV4