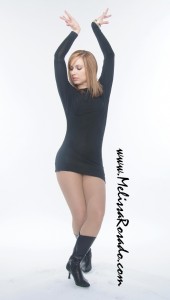 Year after year people all over the world flock to New York, home of NY Style Salsa On2, to take lessons from the King of Mambo himself, Eddie Torres, and his partner
Melissa Rosado
. I made the journey two years ago, and it brought my dancing to a whole new level. Not only did I get to take classes from the masters, I was also lucky enough to catch Melissa social dancing at a popular New York club and watch in awe!
I am thrilled to announce a
truly once in a lifetime opportunity
for anyone who wants to bring their dancing to the next level
regardless
of which style of salsa you dance. In February,
Majesty In Motion Dance Co
. is bringing
Melissa Rosado
to the West Coast to host a set of workshops featuring Body Movement, Styling and Shines, and Partnering & Following Technique. These workshops are
for both men and women
. Melissa not only brings her expertise in Eddie Torres salsa technique, but also her wide variety of training in Ballet, Tap, Jazz, Hip-Hop, African, Afro-Cuban and Flamenco since the age of 5. Whether you are in Los Angeles, Las Vegas, Tijuana or the surrounding area, this should be one of the most promising salsa weekends in Southern California this year. I hope to see lots of you at this unique event!
Where
: San Diego, California (@ Starlight Studio)
Majesty In Motion Dance Social
: February 14, 2009, 8:00p.m. - 2:00 a.m., will include a number of performances including Melissa herself!
Workshop Date
: February 15, 2009, 2:00-5:00 p.m.
For additional information and tickets, please contact Jennifer Stein ( (619) 758-5209 ) at or visit
Majesty In Motion
. If you have a
Facebook account, you can go here
.
Here is a video of Melissa and Eddie Torres performing a Cha-Cha:
https://www.youtube.com/watch?v=zjF9KOTQIyk
Here is a video of Melissa social dancing with Adolfo:
https://www.youtube.com/watch?v=bqYi1Yv5_zc