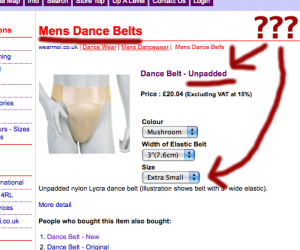 While trying to find interesting salsa dance gear and fashionable clothes, I stumbled upon what I would like to call Exhibit A: A Men's Dance Belt. I am sure there is a fine explanation for this piece of dance hardware, however, I just don't have that answer. I just look at it and say: "
Really??
"Not only did they choose to have the very seductive color of "
Mushroom
" as a choice but they start out in '
Extra Small
' sizes! Click on the picture for a 'larger' view :-)
I hope our visitors enlighten us on how thisapparatusmight be useful when going out dancing in the salsa scene.
Leave your comments and thoughts below.[See More Dance Belts Here] (NSFW?)