Hctor Lavoe
(born
Hctor Juan Prez Martnez
,
September 30
,
1946
in
Ponce
,
Puerto Rico
- d.
June 29
,
1993
in
New York City
) was a
Puerto Rican
salsa
singer
.
He has performed in some of the most prestigious concert halls featuring Salsa, as well as Jazz events like the
Newport Jazz Festival
. His recordings have also garnered him many awards and gold albums. His success is attributed to his musical expression of his unique
jibaro salsa
flavor and his love of Puerto Rico.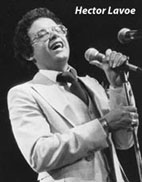 Hctor was born in
Ponce
,
Puerto Rico
to Pachita and Luis Perez, and raised in the Machuelito
barrio
of the city. He was inspired early in life by his musically-talented family. His grandfather
Don Juan Martnez
was a singer of controversial songs, which often went from vocal conflict to physical confrontations. His uncle was a well-known
tres
player in Ponce. His mother Pachita was well known among her family and townspeople for her beautiful singing voice. His father Luis supported his wife and eight children by singing and playing guitar with trios and big bands. Hctor would also be influenced by Puerto Rican singers such as
Jesus Sanchez Erazo
-also known as
"Chuto el de Bayamn"
- one of the island's most successful folk singers, and
Daniel Santos
. Later in his life, he would have the honor of recording songs with both artists.
Hctor attended the local
Juan Morel Campos
Public School of Music where the
saxophone
was the first instrument he learned to play. Among his classmates were
Jose Febles
and multi-instrumentalist
Papo Lucca
. (Jose Febles wrote most of the horn charts for "Rican-Struction", considered by many to be the best album to ever come out of the New York Salsa scene). One of his teachers would strictly demand good diction, stage presence and manners from him - something that suited him well later on - claiming that as a
bolero
singer, Hctor would become a superstar. By the age of 14, however, Hctor dropped out of school and sang with a ten-piece band. He moved permanently to New York on
May 3
,
1963
, against his father's wishes. It would take many more years before Hctor was able to reconcile with his father.
With his newly-found success, Hctor, like many successful artists of his time, such as
Judy Garland
,
La Lupe
, and
Billie Holiday
, became severely addicted to narcotics and prescription drugs. His addiction resulted in him showing up late for gigs, and eventually did not show up to some scheduled performances at all. Although Willie would eventually fire him, he tried to help Lavoe seek assistance to try to quit his habit.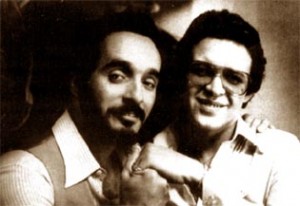 In 1973, Willie Coln broke musical relations with Hctor . Lavoe was given the opportunity of becoming bandleader; he and his band traveled the world on their own, as well as with the
Fania All-Stars
. During his travels, Hctor went to
Honolulu
,
Hawaii
and ran into a young man who went by the name of Shakti. Shakti eventually became his mentor, providing him with spiritual and metaphysical guidance. Lavoe later found out that he befriended a very powerful yogi in disguise who was trying to open Lavoe's spiritual vision. Hctor established himself as a successful singer within a relatively short time and was recognized as a legend in his own time. With a new found spirituality, Hector eventually sought reconciliation with his father. On a visit to Puerto Rico, his father received him with open arms.
Despite his success, Hctor's life was plagued by tragic events, emotional turmoil, and pain.
Hctor died penniless on June 29, 1993 in New York City.
The cause of death was complications from
AIDS
. He was initially buried in a plot in
Saint Raymond's Cemetery
in the
Bronx
(which ironically is the burial place of both
La Lupe
and
Billie Holiday
. Until 2002, Lavoe's grave was within walking distance from La Lupe's), however, in June 2002 the bodies of both Lavoe and his son (who died in 1987 at the age of 18 years) were exhumed per his family's request. They were later reinterred in his native Ponce, along with his wife Nilda who passed away a few weeks prior to the reburial.
Here is a old video of "Todo Tiene Su Final" which means, "Everything has an ending..."
https://www.youtube.com/v/-PPhIVdQHCA