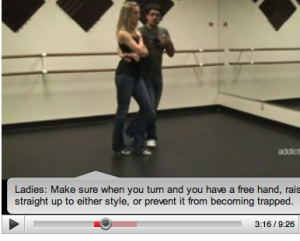 YouTube finally made public the new features we had been testing a few weeks ago: Annotations. I believe this feature adds a tremendous amount of value to dancers viewing salsa videos.
Now, after we upload a video, we can provide additional points of information such as song name being heard, extra salsa dance tips, and my personal comments. I have tried it out on a few videos, such as the
Complex Salsa Dance Move
.
If you can, watch the video again on the
YouTube
page and let me know what you think of the annotations feature - and any ideas on how we could use this feature to improve our videos.
Since we added our first salsa dance videos on YouTube, there have been various questions and mistakes (specifically the earlier ones) and I plan to correct those while providing some additional valuable tips. So who knows - you might find something new in those old videos! Enjoy!