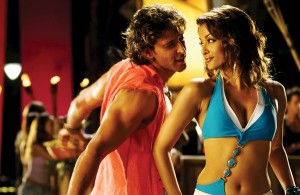 While we may have a long ways to go, salsa is definitely becoming more mainstream in India. A few months back I ended up experimenting with my life by renting my first full bollywood film. While not the best film to be encompassing of the bollywood experience, I thought it was a good start. While the plot won't win any "Oscars" like Slumdog Millionaire, the soundtrack and music video production was spectacular. It features an amazing music fusion of Bhangra music (I believe), with other genres like Spanish, Latin and Hip-Hop. As Latin sounds fused with 'Bollywood' is becoming more popular, I thought I'd give our viewers at taste of the catchy beat that made me buy the whole soundtrack. The clip below is from the movie (they play music videos between specific scenes in the movie). The song name is called "Touch Me, Don't Touch Me". You should notice that they sing all three languages in the song: English, Spanish and Hindi. (how cool is that?)
You can see most of the dancers perform salsa-like moves in the very beginning of the video. As for the music, pay attention to the
rhythm section
of the song. Enjoy!
https://www.youtube.com/watch?v=TWcSSDtSz0o
There is one amazing dancer in this movie that I should point out, his name is Hrithik Roshan (*
drool picture here for ladies
). You can see him dance in the intro song to the movie called "Dhoom Machale" (recommended).Now, to hopefully help others break the stereotype of what they think are "Bollywood" movies, here is the trailer for
Dhoom 2: Back in Action
.If it were up to me, I would want to make a Bollywood version, with lots of dancing, of Transformers. However, I'll first have to check out the latest salsa related movie called "
Mumbai Salsa
".
https://www.youtube.com/watch?v=GLkHTl_Ct4E