If you live near New York City (or if you will be in the Metropolitan area this weekend - May 3rd and 4th, 2008) then you cannot miss Ballet Hispanico's musical, "Palladium Nights". Unfortunately, there are only three shows left. 2pm and 8pm on Saturday, May 3rd and 3pm on Sunday May 4th 2008.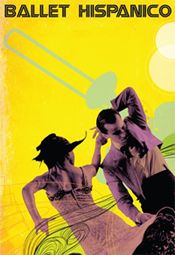 "... Palladium night club in New York City, where mambo was king, Tito led the band and the dancing was sensational! Located in the heart of New Yorks vibrant 1950s jazz scene, the Palladium gave rise to the popularity of the Mambo, the Cha Cha, and the Merengue, ..."
https://www.palladiumnights.com/
I have bought my tickets already (1st row) and I will be posting a review next week (maybe even pictures and video too). There were still a few tickets left when I checked.
My previous post featured a TV special
about this musical about the 1950's. I find it very remarkable that, 55 years later, we are still enjoying an art form that has changed in essence very little. 55 years guys! That is 5.5 decades ago. My grandfather was about 22 years old in 1955. Had my grandfather lived in New York City in 1955, he would probably say (raspy voice) " When I was your age, sonny, I went to a place called Palladium to do the Mambo".
Actually, my grandfather lived in Cuernavaca, Mexico (near Mexico City). I wonder if you he ever danced the Mambo. Perez-Prado started his orchestra in Mexico City in the early 50's. I vaguely remember my grandmother talking about the Mambo. That's an idea for a future post.
Anyway, "Palladium Nights" will be like taking a time machine back the 195o's. Ironically, since Mambo dancing, now Salsa dancing, has changed little-if you get past the Mambo, Salsa On1 or Salsa On2 arguments-every time we go to a Salsa night club is like traveling back to the 1950's.