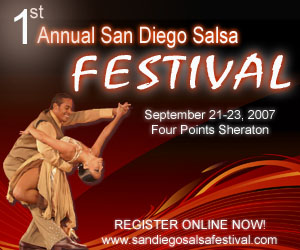 Well, I haven't been this excited since coconut shreds started coming covered in chocolate. The
1st San Diego Salsa Festival 2007
. 'nuff said. This event is going to rock and kick some serious butt. It is the first big event in partnership with
Albert Torres
that will be held in San Diego, CA. Home of (
me
) the new
addicted2salsa.com
guy. This event is also in conjunction with one of the most influential dance instructors in the San Diego area :
Angel and Tulane Rivera
Now, while it has always been a dream of mine to teach at a salas congress, I won't be teaching here (hopefully in the future..). However, Albert and Angel have lined up some of
the best dance instructors
from around the country to attend, perform and instruct. I think that while the West Coast Salsa Congress (LA Salsa Congress) for now is the biggest congress - I think San Diego has a great opportunity to leave its mark and be the second largest! If you are or aren't coming to this event, still support the festival by checking out the event website and spread the word. If you have decided to come, let me know because we are planning to host some
addicted2salsa social events
- just like LA congress
but now - with home court advantage!
The event is on September 21-23rd 2007 at the Four Points Sheraton. Buy you tickets, because I am getting word that this event might sell out. For more information check out the website or contact
info@sandiegosalsafestival.com
.
Here is a favorite video of mine of watching Angel and Pauline "Flare" dance.
https://youtube.com/watch?v=lNF3DBLwRuE