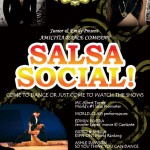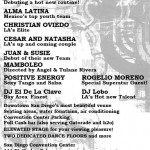 Our friends at Amicitia Dance Co. (Junior & Emily) are throwing a social at the San Diego Convention Center! World-class performers from SF, LA, and San Diego (Mamboleo, Majesty in Motion, Alma Latina, Positive Energy, Juan & Susie, Salsa Divas) will be performing. Come to dance or even just share the amazing shows with your friends/family!!!
From the Bay Area, Isidro & Sheila, from LA, Edwin Rivera, even Ashle from So You Think You Can Dance?!
Big elevated stage, two dance floors, and a cash bar too. Lets all support the San Diego scene!
Pre-sale tickets are $12 or $15 at the door.
www.JuniorAndEmily.com
to stay in touch!
Here is a video of one of their more recent performance:
https://www.youtube.com/watch?v=_qpQrEW4SVE