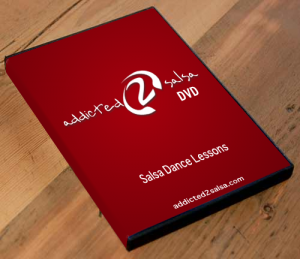 Need a quick gift for the Holidays? Want to help get more friends into salsa dancing? Don't want to spend any money (except maybe for a small donation)? Want a
Do-It-Yourself
project?
Addicted2Salsa videos make a perfect gift! You can download all of our
salsa lessons
from our website, put them on a DVD and share them with the thousands of friends and family members who may have slow internet connections! Best thing of all, it is practically FREE!
Now you may ask, but "Anthony, why can't you make DVDs?". That is an excellent question with a very simple answer: There are +75,000 of you and just one of me.
All of our videos are licensed under the
Creative Common Attribution-Noncommercial-No Derivative Works 3.0 License
. This means you can freely share our videos with anyone you want and play them anywhere in the world! We believe that everyone should be given a chance to experience salsa, and if you have a friend that has a New Year's resolution to learn to dance, this will help them get started salsa dancing.
Spread the salsa joy during the holidays! Live long and Salsa!
[UPDATE]
It seems several of our visitors overlook the text in the story. To summarize,
we are NOT selling a DVD
, this is a suggestion for you to make your own Salsa Lessons DVD with our FREE salsa dance videos and give them to someone you love for the Holidays. However, if you'd like to be on
Santa's Nice List
, you can always leave us a
donation as a Holiday gift!