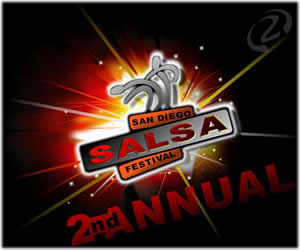 It's back!!!! The 2nd Annual San Diego Salsa Festival, brought to you by Angel and Tulane Rivera in association with Albert Torres Productions, will be held September 19-21, 2008 at the Four Points Sheraton! We had so much fun at this event last year-- the shows were amazing, there were workshops from the best dancers out there, and of course social dancing until the wee hours of dawn. There was a warm, unifying atmosphere all around, showing that this event will keep growing and be even more amazing this year!
They will have LIVE MUSIC by the band Lucky 7, music by Super DJ Robby and DJ Frank until 4am, not to mention over 40 WORKSHOPS, professional dance shows, and a COMPETITION which is a qualifier to the World Salsa Championships on ESPN.
Confirmed instructors:
Victor and Burju (Boston)
David and Jennifer (San Diego)
Silfredo La O Vigo (Cuba)
Laura Mendoza (San Diego)
Angel and Tulane (San Diego)
Magna Gopal (New Jersey)
Joel and Ana (Boston)
Ricardo and Viviana (Colombia)
...with many more to be confirmed!
Full event passes are already on sale at
www.sandiegosalsafestival.com
. Register for the hotel and event pass while you can! Check out the videos from last year's
San Diego Salsa Festival taken by our friends over at Nuevotec
.